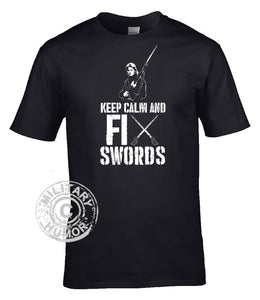 Sword Bayonet
The sword bayonet was based on a German model. Henry Osborne in Birmingham was responsible for the first prototype and consignment. The sword bayonet was 23 inches long and was clipped on to a metal bar attached just behind the muzzle. With the bayonet attached it makes the rifle quite awkward to handle, but there were reasons for having such a long blade. The rifle was much shorter than the standard infantry muskets therefore if a rifleman was ever involved in a bayonet fight this additional length was vital. During battle once a rifleman had finished his skirmishing duties he would quite often fall into line with the rest of the redcoat infantry men, when repelling enemy cavalry from a square it was essential that all men had the same bayonet reach to form an effective square.
As the rifle bayonets were effectively short swords, it follows that bayonets in the 95th Rifles would be termed "swords", and the regular infantry command of "fix bayonets" was changed for riflemen to "fix swords".
Reference: http://95th-rifles.co.uk/equipment/sword-bayonet/

Please contact us if you would like this t-shirt in any other colour or size not shown. info@militaryhumor.co.uk

This t-shirt makes for a great staple! It has a classic fit (not form-fitting) with a thick cotton fabric.

• 100% cotton (Heather colors contain polyester)
• Fabric weight: 6 oz (203 g/m2)
• Pre-shrunk
• Shoulder-to-shoulder taping

Model is wearing a size M. He's 6.2 feet (190 cm) tall, chest circumference 37.7" (96 cm), waist circumference 33.4" (85 cm).